QoListing — ICO/STO Listing Service

coming soon
QoListing is an ICO and STO listing service brought to you by Qoden Technologies, the developers of crypto exchange trading engine QODEX. Leveraging an impressive network of cryptocurrency exchange clients and Qoden's premier technological expertise, QoListing provides unparalleled value for companies looking to launch their token on a multitude of reputable exchanges.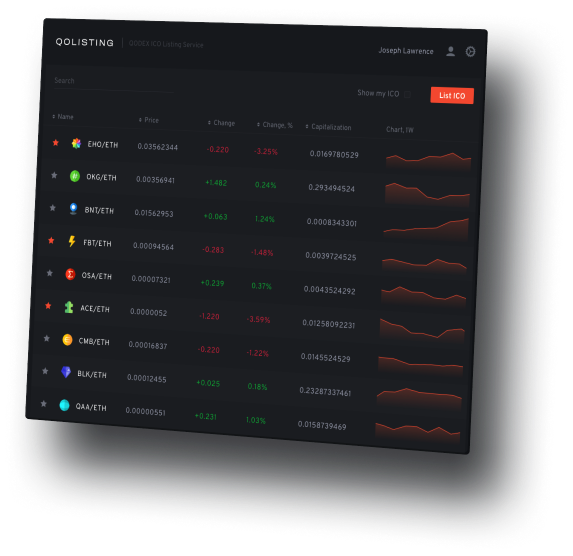 Liquidity

By launching your token with QoListing, you tap into Qoden's wealth of crypto exchange connections and benefit from enhanced liquidity. Our technology increases liquidity by leveraging market making bots on any new exchanges added to our network, for a wide variety of prominent assets—emulating trades placed on competing exchanges to attract liquidity to every platform.

Credibility

By choosing QoListing, you can rest assured that your project is in the hands of experienced and competent financial professionals that have established their reputation in deploying state-of-the-art fintech solutions for more than 10 years. You can rely on Qoden to ensure that your token is being listed and launched in a lawful fashion.

Convenience

Built-in Know Your Customer (KYC) and Anti-Money Laundering (AML) services from some of the industry's leading providers.
Using QoListing to list and manage your token is incredibly simple. Better yet, we offer a feature-rich and intuitive admin panel to provide you with full control over the management of your token launch at every stage of the process.
Upon obtaining approval to list your token with QoListing, you will be granted access to your very own admin panel to manage the ETH collection process. You will also be assigned an account manager to assist you along the way in case you run into issues or have any questions. Our easy-to-use dashboard boasts a variety of features including current balance of ETH collected, token launch timeline, number of investors, and more.
Finally, if your cap is ultimately reached, your token will be integrated into the QODEX exchange engine to allow any of Qoden's exchange clients to easily add your token to their platform should they be interested in listing it. This significantly reduces the barriers to entry and effort required for getting your token listed on exchanges as you will be leveraging Qoden's pre-existing and ever-growing network of strategic partners.