Crypto Asset Custody service

World-class cryptocurrency storage solutions for institutions and retail investors alike.
Qoden Custody is a cryptocurrency wallet service provided by Qoden Technologies, the company behind the robust QODEX crypto exchange engine. With more than a decade of experience in the development of state-of-the-art financial technologies, Qoden launched Qoden Custody to provide institution-grade digital asset custody solutions for the burgeoning cryptocurrency industry.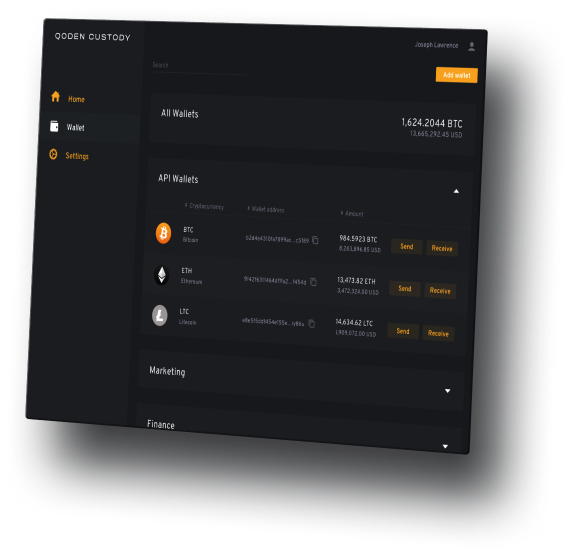 Whether you're an institutional cryptocurrency investor or retail crypto trader, Qoden Custody offers you superior security, unparalleled customer support, and a refreshingly simple user experience. Our cold storage system has been engineered with traditional finance best practices in mind and our hardware is stored and monitored around the clock with utmost scrutiny.
Our solution supports a wide variety of tokens, providing incredible versatility and convenience in managing your portfolio of crypto holdings. Qoden Custody ensure that your funds are completely secure and safe from any potential web-based hacks.
Institution-Grade Security
Qoden Custody technology was built by financial professionals, for financial professionals. By choosing our blockchain-based asset wallet service, you're leaving your funds in the custody of an experienced and reputable team of financial experts—we have invaluable insights into the nuances of operating a bullet-proof asset storage system that will be advantageous to your risk management plan.
Intuitive User Interface
When it comes to user interface design, we believe in simplicity and convenience. That's why we developed a beautifully intuitive user interface for Qoden Custody, saving you significant amounts of time and hassle versus alternatives on the market.
Large Selection of Supported Tokens
A cryptocurrency wallet is only as useful as the selection of tokens it supports. As such, we have gone above and beyond to include as many cryptocurrencies as possible on our list of supported tokens. If cryptocurrency variety is an important feature to you, Qoden Custody is your ideal solution.
Seamless Exchange Accessibility
Qoden Custody allows you to easily trade digital assets from your wallet. Not only does this minimize the hassle of managing numerous siloed accounts, it also assures you that your funds are secured from end-to-end as Qoden Technologies oversees all the technology in this chain of functionalities.